From museums to manufacturing, we have it covered. Come take a tour and learn more about what makes this Commonwealth a great place to live and work. Each tour is led by a representative of the facility, allowing the viewer to experience television unscripted!
"PCN Tours" episodes air Sundays at 6 PM. You can also catch your favorite episodes daily at 7 AM and 6 PM.
If you would like to suggest a PA manufacturer or museum, contact us. PCN does not charge or receive payment for producing a walking tour.

Upcoming Episodes:
PCN Tours American Keg, Sunday at 6pm
-
American Keg manufactures one-half and one-sixth size beer kegs from domestically-sourced stainless steel.  Their kegs are subjected to a process known as "pickling and passivation," which ensures a clean and corrosion-free container.  While they grow their manufacturing capabilities, they'll continue to import kegs of different sizes and styles from abroad to supplement what they produce […]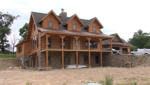 PCN Tours Timberhaven Log & Timber Homes, January 27th at 6pm
-
Timberhaven uses primarily Eastern White Pine harvested from across the northeastern United States for their log homes and cabins.   These forests grow slow, and produce dense, strong wood for their manufacturing.   Timberhaven dries their wood in a kiln to control its moisture content, and cuts every log for an exact fit.  The parts are labeled […]