From museums to manufacturing, we have it covered. Come take a tour and learn more about what makes this Commonwealth a great place to live and work. Each tour is led by a representative of the facility, allowing the viewer to experience television unscripted!
"PCN Tours" episodes air Sundays at 6 PM. You can also catch your favorite episodes daily at 7 AM and 6 PM.
If you would like to suggest a PA manufacturer or museum, contact us. PCN does not charge or receive payment for producing a walking tour.

Upcoming Episodes: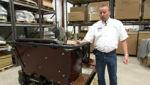 PCN Tours Great Coasters International, Sunday at 6 pm
-
They design and build all types of wooden roller coasters, but Great Coaster International specializes in rides they call "twisters." They give the rider the acrobatic thrills of a modern coaster, while keeping the nostalgic look of the classic version intact. Their first project was the Wildcat in Hersheypark in 1996. They followed up there in 2000 with the Lightning […]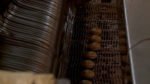 PCN Tours Gertrude Hawk Chocolates, October 28 at 6pm
-
Gertrude Hawk had to support her family after her father died and her mother became ill.  In 1915, she began working in a local candy shop in Scranton, Pennsylvania.  It was here that she learned how to make chocolate.  In 1936, she knew it was time to start her own business. That's when the first […]

Watch the same great PCN content plus additional LIVE streams and video on demand on your favorite device. Stream Pennsylvania politics and policy, history and culture, sports and more. Download the PCN app today!

Purchase your copy of PCN Tours as a digital download, Blu-Ray, or DVD. Go to pcnstore.com or call 1-866-726-8433