Don't see the answer to your question? Contact us at 717-730-6000 or info@pcntv.com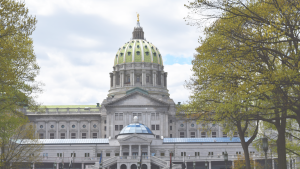 What kind of programming does PCN carry?
PCN was created as a public affairs network, carrying unedited live and same-day coverage of Pennsylvania Senate and House floor proceedings. We also televise committee hearings, press conferences, speeches and other public forums and events.
Over the years, we've expanded our coverage to present original programming on Pennsylvania-related topics and culture, along with the PA Farm Show, Groundhog Day, PIAA high school sporting championships, Gettysburg National Military Park Walking Tours, and other special features.
Back to top

How is PCN funded?
We receive no federal or state funding. PCN is supported through a monthly per-subscriber fee paid by participating cable companies that carry us on their channel lineup.
Back to top

What channel is PCN on my television?
We are voluntarily carried by nearly every cable system in the state. PCN is in 3.3 million households, reaching 10 million people. To see a list of participating cable companies and channel designations, click here.
Back to top

Instead of cable, I have a satellite dish. Can I still watch PCN?
PA Cable operators voluntarily carry PCN as a service to their customers.  However, satellite providers Direct TV and Dish Network choose not to carry PCN, even though it is available to them.  As a satellite subscriber, you can still access all of PCN's unique programming with a subscription to PCN Select. Visit pcnselect.com to subscribe so you can watch PCN on your computer, mobile phone, or tablet.
Back to top

Does PCN just carry news from the Harrisburg area?
PCN is a statewide network with bureaus in Philadelphia and Pittsburgh. Network camera crews and producers consistently travel throughout the state to provide coverage of timely and informative events of interest to all Pennsylvania residents.
Back to top

What if I miss a program?
Topical events generally re-air in the days immediately following an event. In addition, most programs are available online through our PCN Select streaming services. Viewers can also purchase DVDs of public affairs programming, regular PCN series, and special events for personal viewing.
Click to visit the PCN Store.
Back to top

What is PCN's connection to high school sports?
Through an agreement with the Pennsylvania Interscholastic Athletic Association (PIAA), we have exclusive statewide telecasting rights to high school championships in soccer, field hockey, volleyball, cross country, football, team and individual wrestling, swimming and diving, basketball, track and field, baseball, and softball. Most state finals are carried live and replayed at least once on our statewide service.
These programs are available for purchase at our PCN Store.
Back to top

How do I get PCN?
PCN is available on participating cable systems throughout Pennsylvania. For a listing of these systems and their channel designations, click here. If your cable system does not carry PCN, please contact the cable company office to express your interest in receiving the network in your area.
Back to top

What is PCN Select?
PCN Select is the Pennsylvania Cable Network's online premium video streaming service.  PCN Select enables viewers to access PCN Content anytime, anywhere, online and on the PCN Select mobile application.  Subscribers can log into pcntv.com to watch PCN on your desktop or laptop computer.  Stream multiple channels live or choose from a variety of curated programs each month and enjoy PCN originals like PCN Tours, PA Books, or Gettysburg Battlewalks on demand anytime.  Download the PCN Select mobile application to watch the network live or stream multiple events on your smartphone and tablet devices.  The PCN Select app is a free download from any online application marketplace and available for Android 4.0+, iOS 4.0+, iOS 8.1, and iPad2+.
Back to top

How do I watch on the PCN Select app?
Subscribe to PCN Select at pcnselect.com. Two subscription choices are available: Daily, 24-hour subscription for $12.99 (active immediately upon payment) and an Annual subscription for $34.99. All subscriptions are active immediately upon payment.
Back to top
Yes. When browsing programs in the categories, look for green flags that denote content as FREE. Previews, select programs, clips, and several public affairs events can all be accessed without a paid account.
Back to top
Choose 'Create an Account' from the index page.  Follow the instructions to pay by credit card, completing the steps as directed by Authorize.net. An email notification will confirm your account registration.
Back to top

How do I renew my PCN Select account?
Log into your account at pcntv.com/login.  In a new tab, go to the PCN Select Membership Signup page.  Complete the form as directed for your desired Membership level.  When your renewal is complete, your membership profile will be updated to show a new expiration date for your account.  If you have additional questions please contact us at 717-730-6000 or info@pcntv.com.
Back to top

Why is my credit card being declined?
Please double check that you are entering the correct credit card information including the card number, billing address, zip code, and spelling. If your credit card information continues to be declined, please contact us at 717-730-6000 or info@pcntv.com.
Back to top

I did not receive an email confirmation, is my account registered?
Some email clients filter messages to 'Spam.' Check your Spam and junk mail folders for this message. If you are unable to locate this message, use your account credentials to log in. Contact us 717-730-6000 or info@pcntv.com if you have additional questions, or would like to request a receipt.
Back to top