Don't see the answer to your question? Contact us at 717-730-6000 or info@pcntv.com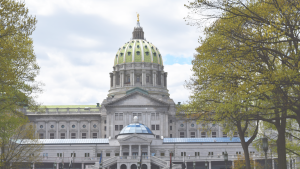 What kind of programming does PCN carry?
The Pennsylvania Cable Network was organized August 29, 1979, as a nonprofit corporation by Pennsylvania cable companies. Its purpose was to provide a cable television network as a public service for the distribution of educational programming by Pennsylvania institutions of higher learning under the leadership of Penn State University.
Over the years, we've expanded our coverage to Pennsylvania state political programming plus original programming on Pennsylvania history, culture, and sports. Event coverage includes the Pennsylvania Farm Show, Groundhog Day, Pennsylvania Budget Hearings, PIAA high school sport championships, and Gettysburg National Military Park Battlewalks. Original programs include PA Books, PCN Tours, Keystone Cuisine, PCN Call-In Program, and Voices of Veterans.
In 1993, PCN added unedited, live, and same-day coverage of Pennsylvania Senate and House floor proceedings. Today, we also televise committee hearings, press conferences, speeches and other public forums and events.
Back to top

How is PCN funded?
We receive no federal or state funding. PCN is primarily supported through a monthly per-subscriber fee paid by Pennsylvania cable companies. We also receive revenue from the sale of PCN Select subscriptions, shop sales, and sponsors.
Click here if interested in sponsorship.
Back to top

What channel is PCN on my television?
We are voluntarily carried by every cable system in the state. PCN is in 3.1 million households, reaching over 10 million people. To see a list of participating cable companies and channel designations, click here.
Back to top

Instead of cable, I have a satellite dish. Can I still watch PCN?
PA cable operators voluntarily carry PCN as a service to their customers.  However, satellite providers Direct TV and Dish Network choose not to carry PCN, even though it is available to them.  As a satellite subscriber, you can still access all of PCN's unique programming with a subscription to PCN Select. Visit pcnselect.com to subscribe so you can watch PCN on your computer, smart phone, tablet, Roku, and FireTV.
Back to top

Does PCN just carry news from the Harrisburg area?
PCN is a statewide network with bureaus in Philadelphia and Pittsburgh. Camera crews and producers consistently travel throughout the state to provide coverage of timely and informative events of interest to all Pennsylvania residents.
Have an event you'd like us to cover? Send the details to us at info@pcntv.com.
Back to top

What if I miss a program?
Events generally re-air in the days immediately following the first air. In addition, most programs are available to watch on demand through our PCN Select streaming service. Viewers can also purchase DVDs, Blu-rays, and digital downloads of sports, public affairs programming, regular PCN series, and special events for personal viewing.
Click here to shop PCN.
Back to top

What is PCN's connection to high school sports?
Through an agreement with the Pennsylvania Interscholastic Athletic Association (PIAA), we have statewide telecasting rights to high school championships in soccer, field hockey, volleyball, cross country, football, swimming and diving, basketball, track and field, lacrosse, baseball, and softball. Most state finals are carried live and replayed at least once on cable. Click here to learn more about PIAA.
The finals are available live and on demand with PCN Select on your favorite device plus FireTV and Roku. Click here to subscribe.
These programs are also available for purchase at our PCN Store.
We also partner with other sports associations and cable networks to air PSAC, WPIAL, USA Field Hockey, and Rugby Pennsylvania. Check our full schedule at pcntv.com/sports.
Back to top

How do I get PCN?
PCN can be enjoyed on cable and streaming on most devices. PCN is on all cable systems throughout Pennsylvania. Click here for channel listing.
If you prefer to stream, PCN is available to stream with a PCN Select subscription on most devices, including FireTV and Roku. Click here to subscribe.
Back to top

What is PCN Select?
PCN Select is the Pennsylvania Cable Network's online video streaming service. PCN Select enables viewers to access PCN content anytime, anywhere, on your favorite device with a PCN Select subscription.
Our Election coverage is always free and so is our public affairs event coverage. Retro PCN clips, Weather World, and Civics 101 are free as well as clips and testimonials for many of our programs.
Download the PCN Select mobile application to watch the network live or stream multiple events on your favorite device.  The PCN Select app is a free download from any online application marketplace and available on FireTV, Roku, and for Android 4.0+, iOS 4.0+, iOS 8.1, and iPad2+. For the best quality streams, we recommend streaming on a wired connection with high-speed internet. PCN Select is not compatible with Chromecast or other screen mirroring options.
Certain content requires a PCN Select subscription. Stream multiple channels to watch live or choose from a variety of PCN originals like PCN Tours, PA Books, or Gettysburg Battlewalks to watch on demand anytime.

How do I watch on the PCN Select app?
First, subscribe to PCN Select at pcnselect.com. Two subscription choices are available. All subscriptions are active immediately upon payment.
Then, download the PCN Select app on your app store. Login using your information, and enjoy PCN live and on demand!
Back to top

Is anything free on the app?
Yes. When browsing programs in the categories, look for green flags that denote content as FREE. Previews, select programs, clips, and several public affairs events can all be accessed without a paid account.
See your mobile application store to download the PCN Select App to begin watching now.
Back to top

How do I create an account?
You will need a PCN Select subscription to have an account. Visit pcntv.com and choose "Register" in the top, right corner of the home page.  Follow the instructions to pay by credit card, completing the steps as directed by the form. An email notification will confirm your account registration. Click here to subscribe.
The PCN Select subscription purchase appears on bank and credit card statements as Pennsylvania Education Systems. If you have additional questions, please contact us at 717-730-6000 or info@pcntv.com.

How do I renew my PCN Select account?
Log into your account at pcntv.com/login. In the top, right corner of the home page, click "Renew." Complete the form as directed for your desired membership level.  When your renewal is complete, your membership profile will be updated to show a new expiration date for your account.  If you have additional questions, or would like us to renew for you, please contact us at 717-730-6000 or info@pcntv.com.
Back to top

Why is my credit card being declined?
Please double check that you are entering the correct credit card information including the card number, billing address, zip code, and spelling. If your credit card information continues to be declined, please contact us at 717-730-6000 or info@pcntv.com.

I did not receive an email confirmation, is my account registered?
Some email clients filter messages to "Spam." Check your Spam and Junk mail folders for this message. If you are unable to locate this message, contact us 717-730-6000 or info@pcntv.com to reset your password, check the status of your account, would like a receipt, or have any additional questions.
Back to top
Can I share my PCN Select Account?
Only one person can be registered to an account at a time. Subscribers can be logged into three devices simultaneously.
Back to top

Why is the stream quality poor/ excessive buffering/ freezing?
Live streaming is subject to many potential issues. Bandwidth is always variable – due to server, hardware, and traffic conditions that change minute-to-minute across the Internet. Here are some tips for troubleshooting:
We recommend watching live streams on a wired internet connection.
Make sure you have the latest browser or App updates.
Make sure you have sufficient free memory and drive space on your PC for video playback/caching.
Minimize additional traffic on your network if necessary to reduce buffering.
More specific troubleshooting steps and reporting methods are detailed at pcntv.com/video-troubleshooting.
Back to top

Why does PCN show political ads?

The 21st century is bringing rapid changes to the media and information business and also to the public's viewing habits. For more than 40 years PCN has provided a valuable service to the people of Pennsylvania. In order to continue providing that service in a changing media landscape, we are modifying our business model to allow for more diverse revenue sources, one of which is that PCN will now accept paid political advertising.
As has always been the case, advertisers and underwriters will in no way influence PCN's editorial decision-making, which has a well-deserved reputation for non-partisanship and journalistic integrity.