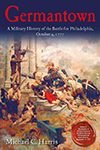 General Sir William Howe launched his campaign to capture Philadelphia in late July 1777, with an army of 16,500 British and Hessian soldiers aboard a 265-ship armada sailing from New York. Six difficult weeks later, Howe's expedition landed near Elkton, Maryland, and moved north into Pennsylvania. Washington's rebel army did all it could to harass Howe and fought and lost a major battle at Brandywine on September 11. Philadelphia fell to the British. On October 4, obscured by darkness and a heavy morning fog, Washington launched a surprise attack on the British garrison at Germantown. His early attack found initial success and drove the British legions before him. The recapture of the colonial capital seemed within Washington's grasp until poor decisions by the American high command brought about a reversal of fortune and a clear British victory. Like Brandywine, however, the bloody fight at Germantown proved that Continental soldiers could stand toe-to-toe with British Regulars.
Michael C. Harris is a graduate of the University of Mary Washington and the American Military University. He has worked for the National Park Service in Fredericksburg, Virginia, Fort Mott State Park in New Jersey, and the Pennsylvania Historical and Museum Commission at Brandywine Battlefield. He has conducted tours and staff rides of many east coast battlefields. Michael is certified in secondary education and currently teaches in the Philadelphia region.
Description courtesy of Savas Beatie.
PA Books airs Sunday nights at 7.
Watch PA Books and more PA History and Culture on cable and the PCN Select Streaming Service.