PA Books
PA Books is a weekly program on PCN that features an hour-long conversation with authors of newly published books on topics unique to Pennsylvania. After more than 20 years on the air, the program continues to produce an extensive video collection of interviews with the experts on Pennsylvania's history and culture. PA Books has preserved key moments for Pennsylvania by focusing on significant events like the Battles of Gettysburg and the Industrial Revolution, examining the lives of Pennsylvania's most famous citizens like W.C. Fields and Andrew Mellon, and hosting notable guests like Pulitzer Prize-Winner Joseph Ellis and former Phillies' greats Bill White and Tug McGraw. Back when it premiered on PCN in 1996, PA Books was only available on PCN on cable. With the PCN Select streaming service, viewers can stream new and on demand episodes of PA Books at any time.
New episodes air Sundays at 7 PM. You can also catch your favorite episodes daily at 8 AM.

Upcoming Episodes: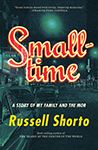 April 18: "Smalltime" with Russell Shorto
-
"Smalltime" is a mob story straight out of central casting—but with a difference, for the small-town mob, which stretched from Schenectady to Fresno, is a mostly unknown world. The location is the brawny postwar factory town of Johnstown, Pennsylvania. The setting is City Cigar, a storefront next to City Hall, behind which Russ and his […]
PA Books: "Spy Sites of Philadelphia" with Robert Wallace
-
Philadelphia became a battleground for spies as George Washington's Patriot army in nearby Valley Forge struggled to survive the winter of 1776-77. In the centuries that followed ― through the Civil War, the rise of fascism and communism in the twentieth century, and today's fight against terrorism ― the city has been home to international […]
Weekly Schedule
Date
Time
Episode
Monday April 19
08:00 AM
PA Books "Smalltime"
Tuesday April 20
08:00 AM
PA Books "Thomas Eakins"
Thursday April 22
08:00 AM
PA Books "James Buchanan and the Coming of the Civil War"
Friday April 23
08:00 AM
PA Books "Buchanan Dying"
Sunday April 25
09:15 PM
Pennsylvania's Neighborhood Scranton: "Labor Unrest in Scranton"
On Demand - PA Books
PA BOOKS PROMO 2020 (25Yrs)
Blood Runs Coal, PA Books
Beyond the Art Spirit: The Mentoring of a Young Artist by Carolyn Wyeth and Her Brother Andrew, PA Books
Bullets and Bandages: The Aid Stations and Field Hospitals at Gettysburg, PA Books
Calder: The Conquest of Space: The Later Years: 1940-1976, PA Books
Dead Letters: Delivering Unopened Mail From a Pennsylvania Ghost Town, PA Books
Geography, Geology, and Genius: How Coal and Canals Ignited the American Industrial Revolution - PA Books
Hell with the Lid Off: Inside the Fierce Rivalry Between the 1970s Oakland Raiders and Pittsburgh Steelers, PA Books
Moravian Soundcapes: A Sonic History of the Moravian Missions in Early Pennsylvania, PA Books
Out of the Woods: From Deerfield to the Grand Circuit, PA Books
Salut! France Meets Philadelphia, PA Books
Smalltime: A Story of My Family and the Mob, PA Books
True Murder Mysteries of Southwestern Pennsylvania, PA Books
*Books featured in these episodes are not available from PCN*

Shop PA BOOKS