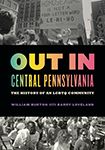 Outside of major metropolitan areas, the fight for lesbian, gay, bisexual, and transgender rights has had its own unique and rich history—one that is quite different from the national narrative set in New York and California. "Out in Central Pennsylvania" highlights one facet of this lesser-known but equally important story, immersing readers in the LGBTQ community building and social networking that has taken place in the small cities and towns in the heart of Pennsylvania from the 1960s to the present day. Drawing from oral histories and the archives of the LGBT Center of Central PA History Project, this book recounts the innovative ways that LGBTQ central Pennsylvanians organized to demand civil rights and to improve their quality of life in a region that often rejected them.
William Burton is an author based in Provincetown, Massachusetts.
Barry Loveland is retired from the Pennsylvania Historical and Museum Commission and is the cofounder and chair of the LGBT Center of Central PA History Project.
Description courtesy of Penn State Press.
PA Books airs Sunday nights at 7.
Watch PA Books and more PA History and Culture on cable and the PCN Select Streaming Service.