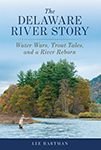 The Delaware River flows some 330 miles from its headwaters near Hancock, New York, to the mouth of the Delaware Bay. It is the longest free-flowing river east of the Mississippi and one of America's most important rivers. Not only is it the primary water supply for New York City, but it provides clean drinking water to every home within a 150-mile radius. When the reservoirs were built on the East and West Branches, they disrupted the natural flows and turned nature upside down. The once-warm waterway now has cooler flows creating a self-sustaining wild trout population and establishing a modern-day fishing and boating industry to fuel the economy of the Upper Delaware River communities. Focusing on both the history and the author's personal story in helping preserve the fishery, this book gives readers a colorful and unique perspective of what it's like to fish the Delaware and how important it is to protect the cold-water fishery that is so valuable to the economy of the region.
Lee Hartman lives along the Upper Delaware River in Equinunk, PA. He is a 45-year veteran on the Delaware system and former owner of Indian Springs Fly Fishing Camp in Lordville, New York. Lee continues to guide on the river and host anglers to great fly-fishing destinations throughout the world.
Description courtesy of Stackpole Books.
PA Books airs Sunday nights at 7.
Watch PA Books and more PA History and Culture on cable and the PCN Select Streaming Service.