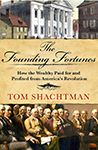 In "The Founding Fortunes," historian Tom Shachtman reveals the ways in which a dozen notable Revolutionaries deeply affected the finances and birth of the new country while making and losing their fortunes. While history teaches that successful revolutions depend on participation by the common man, the establishment of a stable and independent United States first required wealthy colonials uniting to disrupt the very system that had enriched them, and then funding a very long war. While some fortunes were made during the war at the expense of the poor, many of the wealthy embraced the goal of obtaining for their poorer countrymen an unprecedented equality of opportunity, along with independence. In addition to nuanced views of the well-known wealthy such as Robert Morris and John Hancock, and of the less wealthy but influential Alexander Hamilton, "The Founding Fortunes" offers insight into the contributions of those often overlooked by popular history: Henry Laurens, the plantation owner who replaced Hancock as President of Congress; pioneering businessmen William Bingham, Jeremiah Wadsworth, and Stephen Girard; privateer magnate Elias Hasket Derby; and Hamilton's successors at Treasury, Oliver Wolcott, Jr. and Albert Gallatin.
Tom Shachtman has written or co-authored more than 35 books, as well as documentaries for ABC, CBS, NBC, PBS, and BBC, and has taught at New York University and lectured at Harvard, Stanford, Georgia Tech, the Smithsonian, and the Library of Congress.
PA Books airs Sunday nights at 7.
Watch PA Books and more PA History and Culture on cable and the PCN Select Streaming Service.