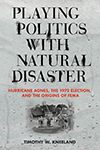 Hurricane Agnes struck the United States in June of 1972, just months before a pivotal election and at the dawn of the deindustrialization period across the Northeast. The response by local, state, and national officials had long-term consequences for all Americans. President Richard Nixon used the tragedy for political gain by delivering a generous relief package to the key states of New York and Pennsylvania in a bid to win over voters. After his landslide reelection in 1972, Nixon cut benefits for disaster victims and then passed legislation to push responsibility for disaster preparation and mitigation on to states and localities. The impact led to the rise of emergency management and inspired the development of the Federal Emergency Management Agency (FEMA). With a particular focus on events in New York and Pennsylvania, Timothy W. Kneeland narrates how local, state, and federal authorities responded to the immediate crisis of Hurricane Agnes and managed the long-term recovery. The impact of Agnes was horrific, as the storm left 122 people dead, forced tens of thousands into homelessness, and caused billions of dollars in damage from Florida to New York. In its aftermath, local officials and leaders directed disaster relief funds to rebuild their shattered cities and reshaped future disaster policies. "Playing Politics with Natural Disaster" explains how the political decisions by local, state, and federal officials shaped state and national disaster policy and continues to influence emergency preparedness and response to this day.
Timothy Kneeland is Professor and Chair of History and Political Science at Nazareth College in Rochester, New York.
Description courtesy of Cornell University Press.
PA Books airs Sunday nights at 7
.Watch PA Books and more PA History and Culture on cable and the PCN Select Streaming Service.