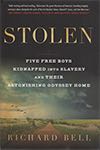 "Stolen" tells the story of five young, free black boys who fall into the clutches of a fearsome gang of kidnappers and slavers in Philadelphia in 1825. Lured onto a small ship with the promise of food and pay, they are instead met with blindfolds, ropes, and knives. Over four long months, their kidnappers drive them overland into the Cotton Kingdom to be sold as slaves. Determined to resist, the boys form a tight brotherhood as they struggle to free themselves and find their way home. Their ordeal—an odyssey that takes them from the Philadelphia waterfront to the marshes of Mississippi and then onward still—shines a glaring spotlight on the Reverse Underground Railroad, a black market network of human traffickers and slave traders who stole away thousands of legally free African Americans from their families in order to fuel slavery's rapid expansion in the decades before the Civil War.
Richard Bell teaches Early American history at the University of Maryland.
Watch PA Books and more History & Culture on cable and the PCN Select Streaming Service.