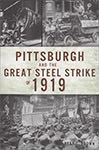 In 1919, the steel industry of Pittsburgh was on the brink of war. Years of labor strife broke out into open conflict as steel workers launched the biggest strike to date in the United States, paralyzing mills from Youngstown to Johnstown and beyond. Radical unionists, anarchists and Bolshevik sympathizers set bombs, planned for revolution and fought police in violent battles. As the postwar Red Scare began to sweep the nation, federal agents used the strikes as an excuse to comb Pittsburgh's immigrant neighborhoods looking for communists. Author Ryan C. Brown details the harrowing days of the Great Steel Strike of 1919 that rocked Pittsburgh and its seemingly impregnable "principality of steel."
Ryan C. Brown is a journalist and writer based in Pittsburgh.
Description courtesy of the History Press.
PA Books airs Sunday nights at 7.
Watch this episode and more with a PCN Select subscription!