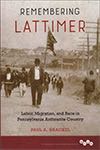 On September 10, 1897, a group of 400 striking coal miners--workers of Polish, Slovak, and Lithuanian descent or origin--marched on Lattimer, Pennsylvania. There, law enforcement officers fired without warning into the protesters, killing nineteen miners and wounding thirty-eight others. The bloody day quickly faded into history. Paul Shackel confronts the legacies and lessons of the Lattimer event. Beginning with a dramatic retelling of the incident, Shackel traces how the violence, and the acquittal of the deputies who perpetrated it, spurred membership in the United Mine Workers. By blending archival and archaeological research with interviews, he weighs how the people living in the region remember--and forget--what happened.
Paul Shackel is a professor in the Department of Anthropology at the University of Maryland-College Park.
Description courtesy of University of Illinois Press.
Watch PA Books and more History & Culture on cable and the PCN Select Streaming Service.