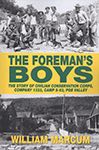 Employment prospects for many were bleak at the height of the Great Depression. For unmarried recent high school graduates, the prospect of getting a job was mostly non-existent. President Roosevelt's New Deal plan included the Civilian Conservation Corps, a program specifically targeted to provide employment for those whose job prospects were non-existent. This seventeen to twenty-five-year-old age group would seize upon this opportunity for full-time employment, enroll for a six-month hitch and venture into the unknown. The work projects included tree planting, eradication of destructive vegetation, construction of roads and bridges, fire management, soil management, and the development of parks and recreational areas. This book tells the story about CCC Company 1333, Camp S-63, Poe Valley situated in the rugged mountains of central Pennsylvania. From the first day, the camp was activated through the last day of operation, the book is filled with accounts of camp development, work projects, construction of the dam creating Poe Valley lake, and numerous stories told by veterans, camp administrators, and military commanders. Included are hundreds of names of rostered enrollees. Anyone interested in learning what life was like in a CCC camp during and after work hours, this book will provide insight into camp operations and activities.
William Marcum is a Civilian Conservation Corps enthusiast who for many years hosted reunions for veterans of Civilian Conservation Corps Company 1333.
Description courtesy of Sunbury Press.
Watch PA Books and more History & Culture on cable and the PCN Select Streaming Service.