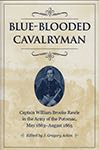 In May 1863, eighteen-year-old William Brooke Rawle graduated from the University of Pennsylvania and traded a genteel, cultured life of privilege for service as a cavalry officer. Traveling from his home in Philadelphia to Virginia, he joined the Third Pennsylvania Cavalry and soon found himself in command of a company of veterans of two years' service, some of whom were more than twice his age. Within eight weeks, he had participated in two of the largest cavalry battles of the war at Brandy Station and Gettysburg. Brooke Rawle and the Third Pennsylvania Cavalry would serve with the Cavalry Corps of the Army of the Potomac through April 1864, fighting partisans and guerrillas in Northern Virginia and also seeing action during the Bristoe Station and Mine Run battles of late 1863. A meticulous diarist and letter writer, Brooke Rawle documented nearly everything that came under his observant eye in 150 well-written letters home to his family. These letters, supplemented by his diary entries, provide a fascinating, richly detailed look into the life of a regimental cavalry officer during the last two years of the Civil War in the East.
J. Gregory Acken served for twelve years on the board of governors of the Civil War Library and Museum of Philadelphia.
Description courtesy of Kent State University Press.
Watch PA Books and more PA History and Culture on cable and the PCN Select Streaming Service.