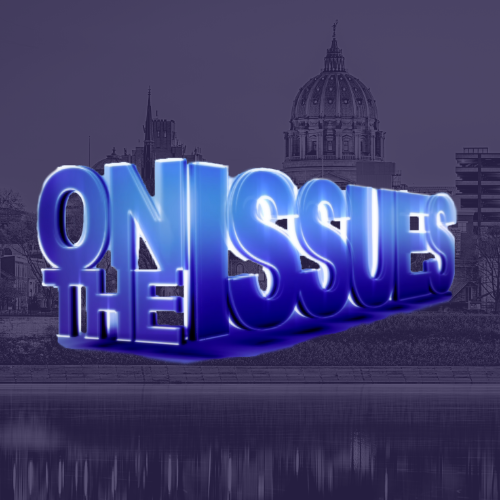 Join On The Issues for one-on-one conversations with the individuals influencing public policy in Pennsylvania. Watch Wednesday nights at 6:00 PM and 6:30 PM or stream FREE on demand with PCN Select.
UPCOMING EPISODES
Stay tuned! On The Issues returns in January 2024.
AVAILABLE ON DEMAND
Rep. Sheryl Delozier on Clean Slate Law 
Clean Slate Law gives Pennsylvanians a second chance by having certain minor offenses wiped off their record so they can obtain housing and a job. Rep. Sheryl Delozier was on the leading edge of the original version of this legislation, and she believes it's time to expand it to include other offenses.
Rep. Elder Vogel on PA Dog Law
The governor has signed off on changes to the state's dog law that Senator Elder Vogel proposed. Some updates address online licensing websites for counties which don't have them, clarifying the definition of "dangerous dogs", and revoking a kennel license when a kennel is charged with animal cruelty.
Fletcher McClellan, Elizabethtown College, Prof. of Political Science
Professor McClellan summarizes and examines the results of Tuesday's election with emphasis on the statewide judicial positions, the mayor of Philadelphia, and Allegheny County Executive.
Alison Dagnes, Shippensburg University, Prof. of Political Science
Prof. Dagnes has written an article based on a recent Pew poll that found a majority of Americans are "exhausted" when they think about politics. Her solution? "Stop feeding the polarization beast."
ON THE ISSUES JUDICIAL CANDIDATE INTERVIEWS
Maria Battista, Republican for PA Superior Court
Maria Battista has more than 15 years of legal experience in civil, criminal, and administrative law, and is a former Assistant District Attorney. She was counsel for both the PA Health Department and Department of State.
Timika Lane, Democrat for PA Superior Court
Timika Lane was elected a Common Pleas judge in Philadelphia in 2013. She is a former public school teacher, former assistant district attorney, and a certified child advocate.
Jill Beck, Democrat for PA Superior Court
Jill Beck has worked as a legal clerk for Pennsylvania's Superior and Supreme Courts. She earned her law degree at Duquesne University, and has used it to continue her advocacy for neglected and mistreated children.
Harry Smail, Republican for PA Superior Court
Harry Smail has been a judge on the Court of Common Pleas in Westmoreland county since 2014. He had been appointed to the bench by Governor Tom Corbett. He has ruled on cases related to government and municipal issues, as well as elections and land uses.
Dan McCaffery, Democrat for PA Supreme Court
Currently a judge on PA Superior Court, Dan McCaffery has also been on the bench of the Philadelphia Court of Common Pleas. In the 1990s, he was assistant district attorney in Philadelphia, and he worked for a law firm in Montgomery county. Now's he's running for Pennsylvania's highest court.
Vic Stabile, Republican for Retention on PA Superior Court
Judge Stabile has been on PA Superior Court for 20 years. In the 1980s, he was state deputy attorney general, then he went on to be a managing partner at a Harrisburg law firm. Every ten years, sitting judges on this court are subject to a "yes" or "no" vote, which determines if he or she is kept on the court. It's Judge Stabile's turn in November's election.
Megan Martin, Republican for PA Commonwealth Court
Megan Martin says her 30-year career of service has given her unmatched, comprehensive, and one-of-a-kind legal experience in government law that she alone can bring to PA Commonwealth Court. She says the court is connected to the basic necessities of every Pennsylvanian, including utilities, businesses, and schools.
Jack Panella, Democrat for Retention on PA Superior Court
Jack Panella, President Judge of the PA Superior Court, is running for retention for another 10-year term. The concept of retention means voters are able to vote "yes" or "no" with no other name in competition on the ballot. Judge Panella has been on PA Superior Court for approximately 20 years.
Carolyn Carluccio, Republican for PA Supreme Court
Carolyn Carluccio is currently President Judge of the Court of Common Pleas in Montgomery county. She started her legal career as Assistant to the U.S. Attorney, and eventually became a public defender. Now she's running for Pennsylvania's highest court.
Joe Rockey, Republican for Allegheny County Executive
Joe Rockey is a retired Chief Risk Officer for PNC, a major employer in western Pennsylvania. He's past president of the Ronald McDonald House at Children's Hospital, and a former board member of Oakland Catholic High School. As County Executive, Rockey says he wants to create a "vibrant community with abundant jobs."