Whether it's the House or Senate, local or state government, elections or another captivating political issue, if it might affect you, it's on Journalists Roundtable. Pennsylvania journalists discuss the top political news of the week, examining the ins-and-outs of policy, politics and current events to provide detail, background and analysis on hot-button topics circulating around the Capitol and throughout your communities. Journalists Roundtable regularly travels around the state, focusing on topics affecting Pennsylvania's diverse neighborhoods.
Journalists Roundtable airs Thursdays at 7 p.m. and Sundays at 9 p.m. 
Check the PCN schedule for other air times, as air dates and times can change.
Episodes: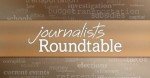 April 19: Journalists Roundtable
-
This week, Journalists Roundtable was on the road in Pottstown at the offices of The Mercury. The suburban collar counties around Philadelphia have three open Congressional seats covering Delaware, Chester and Montgomery counties. With the primary election less than four weeks away, changes to Pennsylvania's Congressional delegation and to the General Assembly in Harrisburg could hinge on the outcome of races in southeastern Pennsylvania counties. To discuss these topics and others are: Tony Phyrillas, Editor of the Pottstown Mercury; Philip Heron, Editor of the Delaware County Daily Times; and Michael Rellahan, Courthouse Reporter for the West Chester Daily Local. Our host is Brian Lockman.
---
Journalists Roundtable
Journalists Roundtable
Journalists Roundtable 04/19/18
Journalists Profile with Brad Bumsted
Journalist Profile with Chris Comisac
Journalists Profile with Steve Esack
Journalists Profile with Dennis Owens
Journalist Profile with Tony Romeo