Whether it's the House or Senate, local or state government, elections or another captivating political issue, if it might affect you, it's on Journalists Roundtable. Pennsylvania journalists discuss the top political news of the week, examining the ins-and-outs of policy, politics and current events to provide detail, background and analysis on hot-button topics circulating around the Capitol and throughout your communities. Journalists Roundtable regularly travels around the state, focusing on topics affecting Pennsylvania's diverse neighborhoods.
Journalists Roundtable airs Thursdays at 7 p.m. and Sundays at 9 p.m. 
Check the PCN schedule for other air times, as air dates and times can change.
Episodes: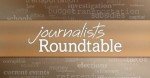 June 21: Journalists Roundtable
-
On Wednesday, the House passed a budget bill and funding bills for state agencies and colleges. The budget requires no tax increases, but does rely on transferring surpluses from various state funds. Several legislative redistricting bills were considered in committee. A bill decreasing the size of the House passed the Senate. To discuss this week's legislative action are: John Micek, Editorial & Opinions Page Editor, PennLive & The Patriot-News; Angela Couloumbis, State Government Reporter, Philadelphia Inquirer; and Robb Hanrahan, Anchor and Host of "Face the State"; CBS 21 News. Our host is Brian Lockman.
---
Journalists Roundtable
Journalists Roundtable
Journalists Roundtable 06/21/18
Journalists Profile with Brad Bumsted
Journalist Profile with Chris Comisac
Journalists Profile with Steve Esack
Journalists Profile with Dennis Owens
Journalist Profile with Tony Romeo