Whether it's the House or Senate, local or state government, elections or another captivating political issue, if it might affect you, it's on Journalists Roundtable. Pennsylvania journalists discuss the top political news of the week, examining the ins-and-outs of policy, politics and current events to provide detail, background and analysis on hot-button topics circulating around the Capitol and throughout your communities. Journalists Roundtable regularly travels around the state, focusing on topics affecting Pennsylvania's diverse neighborhoods.
Journalists Roundtable will return in September, 2018. Journalists Roundtable airs Thursdays at 7 p.m. and Sundays at 9 p.m. 
Check the PCN schedule for other air times, as air dates and times can change.
Episodes: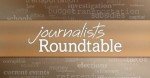 June 28: Journalists Roundtable
-
Last Friday, the Senate adjourned for the summer and on Monday, the House followed suit. They concluded work on state budget more than a week early, the first time a budget has been signed before the deadline since 2001. The new budget contains no tax increases, but does rely on one-time revenue from transfers from various state funds.  A number of bills passed and were sent to the governor, including a new school safety grant program and $70 million for school safety. A measure that would change the way Pennsylvania draws its legislative districts did not receive final approval due to the filing of hundreds of amendments. Another proposed constitutional amendment to reduce the size of the state House to 151 members was not considered and will not be before voters for approval this year. To analyze the budget and recent legislative actions are: Marc Levy with the Associated Press; Katie Meyer, Capitol Bureau Chief with WITF-FM; and R.B. Swift with Capitolwire.com. Our host is Francine Schertzer.
---
Journalists Roundtable
Journalists Roundtable
Journalists Roundtable 06/28/18
Journalists Profile with Brad Bumsted
Journalist Profile with Chris Comisac
Journalists Profile with Steve Esack
Journalists Profile with Dennis Owens
Journalist Profile with Tony Romeo