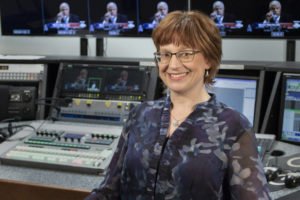 PCN's Board of Directors has appointed Debra Kohr Sheppard to the position of President and Chief Executive Officer effective April 1, 2020. A search committee was established after Brian Lockman, PCN President of 21 years, announced his retirement in September 2019.
"We are very excited to have Ms. Sheppard take on the role of CEO of PCN," said David Breidinger, PCN Board Chairman. "Deb brings to the job an exceptional combination of energy, experience, and proven leadership to guide the network in the future."  Both the Board and Staff are impressed with her extensive knowledge of the Pennsylvania Cable Network, with more than 26 years of experience at the network, including serving as the COO for the past 9 years. We expect Deb to not only continue the quality programming of the network but to work with our partners to help expand the reach and impact of PCN."
"I am honored to be selected as President and CEO," says Sheppard, "and will continue the strong repertoire of content no other network offers - unfiltered and unedited coverage of state government, our commonwealth's expansive history and culture, and Pennsylvania high school sports."
Showcasing the state's past, present, and future to viewers across Pennsylvania is important to Sheppard and her staff. "I take great pride in having contributed to PCN's growth during our formative years and look forward to leading the network forward while embracing advances in technology and changes within the industry."
"In her 26 years with PCN, Deb has never stopped growing as a person and as a professional," said outgoing president Lockman. "She is the ideal person to see that PCN continues to provide the valuable service Pennsylvanians have come to expect. But she is also ideally suited to steering the network through all of the challenges that lay ahead."
Sheppard began her career with PCN in 1993 as Producer/Director. Throughout the years she led the Operations and Engineering departments and provided executive oversight of the Marketing department and the Programming department's technical operations. She spearheaded changes in technology, oversaw construction of the PCN facility, and led the network's conversion to High Definition. Previously, she served as Senior Vice President and Chief Operating Officer since 2011.
She is a member of SBE, Society of Broadcast Engineers, and NAPAN, National Association of Public Affairs Networks.
Sheppard is native to Pennsylvania, grew up in Harrisburg, and graduated from Susquehanna Township High School and Kutztown University of Pennsylvania.