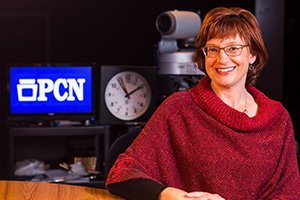 Debra Kohr Sheppard was named President and Chief Executive Officer in April 2020. Sheppard began her career with PCN in 1993 as Producer/Director. Throughout the years she led the Operations and Engineering departments and provided executive oversight of the Marketing department and the Programming department's technical operations. She spearheaded changes in technology, oversaw construction of the PCN facility, and led the network's conversion to High Definition. Previously, she served as Senior Vice President and Chief Operating Officer since 2011.
She is a member of SBE, Society of Broadcast Engineers, and NAPAN, National Association of Public Affairs Networks.
Sheppard is native to Pennsylvania, grew up in Harrisburg, and graduated from Susquehanna Township High School and Kutztown University of Pennsylvania.