PCN Call-In Program
The hour-long interactive show allows PCN viewers to speak directly with government officials, newsmakers, and other experts on current Commonwealth topics.
RETURNS September 16 at 7 PM.*
*Air time is subject to change.
PCN's toll-free number: 1-877-PA6-5001 (1-877-726-5001)
In order to allow as many different viewers as possible the opportunity to participate in the PCN Call-In Program, we ask that callers limit themselves to one call every 30 days. Thank you for your assistance in continuing to make the PCN Call-In Program a valuable service for all viewers.
UPCOMING EPISODES: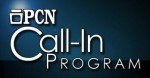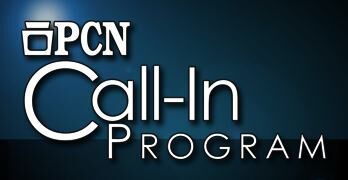 Oct. 21: PA Legislative Agenda: LIVE at 7 pm
-
The General Assembly returns for two weeks of floor sessions to end October. Members will have a full plate with numerous committee meetings and bills up for consideration on the House and Senate floors. To discuss the legislative agenda and their priorities are: Rep. Mike Tobash (R-Schuylkill/Dauphin) and Sen. Anthony Williams (D-Philadelphia/Delaware). Call-in with your […]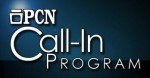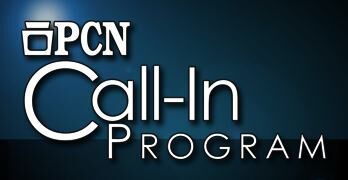 Oct. 22: PA House Agenda: LIVE at 7 pm
-
The House has a full agenda of committee meetings and floor action this week and numerous press conferences are scheduled. Rep. Garth Everett, chair of the House State Government Committee is our guest. Call-in with your questions or comments LIVE to 1-877 PA6-5001. The PCN Call-in Program airs Tuesday, Oct. 22, at 7 PM.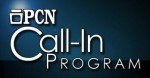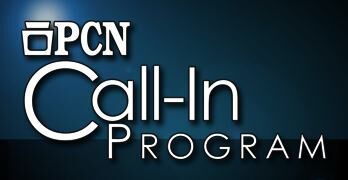 Oct. 23: PA's Economy: LIVE at 7 pm
-
Pennsylvania's unemployment rate is 4 percent, compared to the national average of 3.5 percent. The rate is still near historic lows hit earlier this spring, yet Pennsylvania remains the only state in the region that still pays a $7.25 minimum wage. Gov. Tom Wolf announced an executive order increasing overtime pay for employees that work […]
Weekly Schedule
RETURNS September 16 at 7 PM.
Date
Time
Episode
Monday October 14
05:00 AM
PCN Call In: Environmental Regulations
Monday October 14
06:00 AM
PCN Call In: Probation and Parole
Tuesday October 15
07:00 PM
PCN Call In: PA Legislative Agenda
Wednesday October 16
01:00 AM
PCN Call In: PA Legislative Agenda
Wednesday October 16
05:30 AM
PCN Call In: PA Legislative Agenda
Wednesday October 16
09:00 AM
PCN Call In: PA Legislative Agenda
Wednesday October 16
07:00 PM
PCN Call In: Marijuana Legalization
Thursday October 17
12:00 AM
PCN Call In: Marijuana Legalization
Thursday October 17
05:30 AM
PCN Call In: Marijuana Legalization
Thursday October 17
09:00 AM
PCN Call In: Marijuana Legalization
ON DEMAND - Call-In Program
PCN Call-In Program
Call-In Wednesday, Marijuana Legalization: Goldstein, Bartkowiak 10/16/19
Call-In Tuesday, PA Legislative Agenda: Ceisler, Kolling 10/15/19
Call-In Wednesday, Probation and Parole: Flood 10/09/19