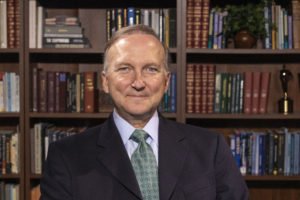 President & CEO, Brian Lockman, Announces His Retirement from Pennsylvania Cable Network
Brian Lockman, President & CEO of Pennsylvania Cable Network, announced that he will retire from his role after 20 years of leading the organization. Lockman will continue in the position through March 31, 2020.
Mr. Lockman joined PCN as Vice President and Chief Operating Officer in November 1994 after more than fifteen years with C-SPAN and was named President & CEO of PCN in 1999.
Joining C-SPAN in 1979 as one of C-SPAN's original four employees, he served more than ten years as that network's Vice President of Operations.
At the time he joined PCN, it was a struggling instructional network which he quickly developed into the nation's pre-eminent state cable network built on the C-SPAN model.
During his tenure at C-SPAN, Mr. Lockman produced and directed the first live television coverage of the Iowa presidential precinct caucuses, directed C-SPAN's first live coverage of the Democratic and Republican National Conventions, and produced C-SPAN's coverage of the aftermath of the 1991 military coup in the Soviet Union.
Since 1996 he has been on-air host of the weekly interview series "PA Books" and is a frequent host of "Journalists Roundtable" and the "PCN Call-In" program. He is author/editor of five books, PCN Tours released in 2003, World War II: In Their Own Words and Pioneers of Cable Television both released in 2005, World War II Reflections released in 2009 and Arlen Specter: An Oral History, released in 2016.
Mr. Lockman is a founding board member of the Pennsylvania Press Club and served for three years as its president. He is also a founding board member of NAPAN, the National Association of Public Affairs Networks, and a member of the Pennsylvania Bar Association Bar/Press Committee.