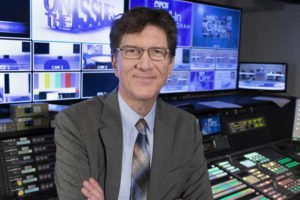 Larry Kaspar is a Producer at PCN, and can be seen on air during PCN's live Call-In program, "On The Issues," as well as "PCN Profiles."
Larry produces "On The Issues," a 30-minute interview program with the people who influence and make public policy. He also produces coverage of the state courts, the related series "In Session," and the annual Pennsylvania Farm Show. Another of Larry's on-going projects is "PA Film Flashbacks," a series of short documentaries, news reels, and dramatizations from the silent era through the 1970's.
A graduate of Penn State University, Larry came to PCN in 1993 from a background in broadcast news at WHP-TV Harrisburg. A life-long Pennsylvania resident, he was raised just down the street from PCN studios in Camp Hill.