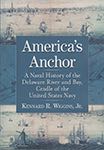 This naval history of the Delaware Estuary spans three centuries, from the arrival of the Europeans to the end of the World War II. The author describes the shipbuilders and infrastructure, and the ships and men who sailed this surprisingly active waterway in peace and in war. From Philadelphia to the Delaware Capes, the story of the nascent U.S. Navy and key historical figures emerges.
Kennard Wiggins is a retired military officer and the author of five regional military history books. He lives in Elkton, Maryland.
Description courtesy of McFarland.
PA Books airs Sunday nights at 7.