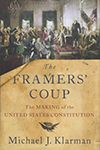 "The Framers' Coup" narrates how the Framers' clashing interests shaped the Constitution--and American history itself. The Philadelphia convention could easily have been a failure, and the risk of collapse was always present. Had the convention dissolved, any number of adverse outcomes could have resulted, including civil war or a reversion to monarchy. Not only does Klarman capture the knife's-edge atmosphere of the convention, he populates his narrative with riveting and colorful stories: the rebellion of debtor farmers in Massachusetts; George Washington's uncertainty about whether to attend; Gunning Bedford's threat to turn to a European prince if the small states were denied equal representation in the Senate; slave staters' threats to take their marbles and go home if denied representation for their slaves; Hamilton's quasi-monarchist speech to the convention; and Patrick Henry's herculean efforts to defeat the Constitution in Virginia through demagoguery and conspiracy theories.
Michael J. Klarman is Kirkland & Ellis Professor of Law at Harvard Law School and author of the Bancroft Prize-winning "From Jim Crow to Civil Rights."
Description courtesy of Oxford University Press.
PA Books airs Sunday nights at 7 pm.
Watch this episode and more with a PCN Select subscription!