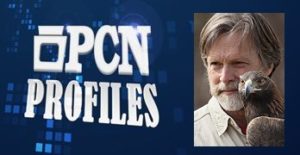 Jack Hubley has been a multimedia advocate for the natural world for more than 30 years. A lifelong resident of Lancaster County in southeastern Pennsylvania, he is devoted to educating his audiences about the natural world through his weekly nature vignettes on television, his traveling Wild Neighbors Lecture Series, and as program director of The Falconry Experience for Hershey Entertainment & Resorts.
During the past 30 years Jack has hosted three half-hour nature shows, all of which aired on WGAL, the NBC affiliate in southeastern Pennsylvania. Long-time WGAL viewers will remember "Call of the Outdoors," created in 1955 by Harry Allaman and airing continuously until 1997. Jack produced and hosted "Call of the Outdoors" from 1987 to 1997 then served as host of "Call of the Outdoors for Kids" for three years. The latter show, a children's nature show, featured a live audience of elementary-age children and a co-host, Jack's English setter, Trusty. In 2000 Jack accepted an offer to host "Wild Moments," a nationally syndicated half-hour wildlife show that aired on more than 140 broadcast stations nationwide for four years.
Watch this episode and more with a PCN Select subscription!