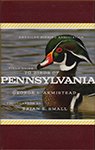 "Field Guide to Birds of Pennsylvania" includes over 252 species birders are most likely to see in the commonwealth. Illustrated with over 400 crisp color photographs, it includes clearly written descriptions along with tips of where and when to see birds by an expert birder.
George Armistead is the events coordinator for the American Birding Association. While guiding birding tours for Field Guide, Inc. he led trips to all seven continents, but today enjoys seeking birds and photographing them in his native Philadelphia.
Description courtesy of Scott & Nix, Inc.
PA Books airs Sunday nights at 7PM.
Watch this episode and more with a PCN Select subscription!