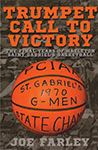 Trumpet Call to Victory tells the story of a small parochial high school located in the Pennsylvania coalfields that reached the summit of basketball glory in the late 1960s. Glorious victories and heartbreaking defeats are chronicled on Saint Gabriel's path to capturing multiple state championships. Unsung heroes and scholastic superstars take center stage during what, in the last five years of the school's existence, can only be described as a 'golden age.' The feats of the greatest player in the region's history are chronicled as is the beginning of a career for a coach who arranged to have a young Bobby Knight address his state championship team at the school's sports banquet. That coach, Richard "Digger" Phelps, recently recalled his first head coaching job in a tweet which read, "St. Gabes was my first step to ND. They made it happen."
Joe Farley was born and raised in Hazleton, Pennsylvania. He was a member of the last class to graduate from Hazleton Saint Gabriel's High School where he demonstrated his academic prowess by graduating thirty-seventh in his class of forty. While attending Saint Gabriel's, Mr. Farley was the starting point guard on the school's 1970 state championship basketball team. He then attended Bloomsburg State University where he graduated with a degree in education.
Description courtesy of Sunbury Press.
PA Books airs Sunday nights at 7.
Watch this episode and more with a PCN Select subscription!