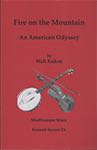 Walt Koken, the founding member of the Highwoods Stringband, reminisces about traveling and playing old time music in the 1960's and 1970's, and the people he met while barnstorming, before and during his days in the band.
Description courtesy of Mudthumper Music.
PA Books airs Sunday nights at 7 pm.
Click here to enjoy more titles on PCN Select!