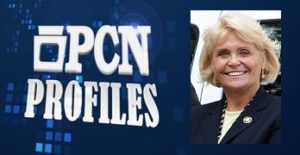 Sheriff Carolyn "Bunny" Welsh of Chadds Ford, PA is the first woman to be elected Sheriff of Chester County. She is one of two female sheriffs in the Commonwealth of Pennsylvania, and one of only 38 female sheriffs in the nation. In 1997 Sheriff Welsh was named one of the Top 50 Women in Business in the Commonwealth of Pennsylvania. She received numerous Pennsylvania Senatorial Citations and commendations from the Pennsylvania House of Representatives.
In 2004 she was elected to serve on the Executive Board of the Pennsylvania Sheriff's Association, and in July 2009 she was sworn in as president. This is the first time in the 88 year history of the association that a woman has been elected to the top leadership position. In January 2011 she was elected to the Executive Board of the National Sheriffs Association. In 2006 she was presented with an award for "30 Remarkable Women Making Domestic Violence History" by the Pennsylvania Coalition against Domestic Violence.
Under the leadership of Sheriff Welsh, the Chester County Sheriff's Office has received numerous awards and recognition's. In 2008 and again in 2011, the CCSO was selected as the top sheriff's office in the Commonwealth of Pennsylvania for Crime Prevention and Community Outreach.
Among her many accomplishments, Sheriff Welsh is also the mother of four, and grandmother of nine.
Watch this episode and more with a
PCN Select subscription
!