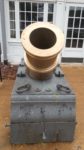 French troops from Fort Duquesne (later Fort Pitt in Pittsburgh) and their native American allies clashed with British forces on Oct. 12, 1758, at the Battle of Fort Ligonier. Though the French and Indian assault on the just-completed fort was beaten back, British and colonial troops did not yield despite significant casualties, and the French withdrew.
Order this episode from the PCN Store
Watch this episode and more with a PCN Select subscription!