This Week: PA discusses and highlights the most current events happening throughout the Commonwealth, breaking down the weekly run-down of top events, bills, news, and news-makers. Frequently joined by top state lawmakers and Capitol reporters, This Week: PA aims to look ahead to the bills, topics, and stories that are on both the House and Senate Calendars for that particular week, and also provide analysis and discussion about them in a quick and informative manner.
LIVE Mondays at 9:30 AM.*
*When the House & Senate are in session. Air time is subject to change.
Upcoming Episode: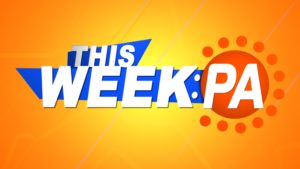 Monday, June 24 at 9:30 am
John Micek, editor-in-chief at the Pennsylvania Capital-Star, joins us to talk about the state budget, legislation expanding access to opioid anti-overdose drugs, and an audit of the State Police's instant background check system for gun purchases. We'll talk on the phone with Sen. Ryan Aument about his bill to change the way teacher performance is evaluated and Sen. Camera Bartolotta about her constitutional amendment to limit state spending.