This Week: PA discusses and highlights the most current events happening throughout the Commonwealth, breaking down the weekly run-down of top events, bills, news, and news-makers. Frequently joined by top state lawmakers and Capitol reporters, This Week: PA aims to look ahead to the bills, topics, and stories that are on both the House and Senate Calendars for that particular week, and also provide analysis and discussion about them in a quick and informative manner.
LIVE Mondays at 9:30 AM.*
*When the House & Senate are in session. Air time is subject to change.
Upcoming Episode: LIVE Monday, November 18 at 9:30 am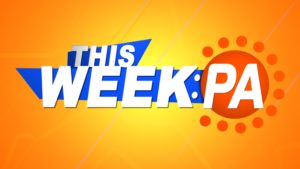 "This Week: PA" will return on Monday, November 18 at 9:30 am.
John Micek, Editor-in-Chief of the Pennsylvania Capital-Star joins us to discuss Pennsylvania after the municipal elections this month, a pipeline permit probe in the state, and Sunday Hunting in the state.
Our on-the-phone guests are Sen. Dan Laughlin, to talk about his Sunday Hunting bill, and Rep. Mike Schlossberg, to discuss his EMS Mental Health bill.
Articles from this episode:
With straight-party voting gone in Pa., who will miss it most?
Scrapping cross-filing for candidates is another path to election reform | Mark O'Keefe
AP Exclusive: FBI eyes how Pennsylvania approved pipeline
Dauphin County resists Pennsylvania's push for new voting machines
DePasquale: Climate change costing Pa. millions in infrastructure damage, but there's a fix
Daryl Metcalfe responded to DePasquale's climate change report in the most Daryl Metcalfe way ever | Thursday Morning Coffee
Reproductive rights, abortion top political agenda as Legislature returns next week
We're psychologists: This Pa. House bill mandating the burial of fetal remains is emotionally damaging to women | Opinion