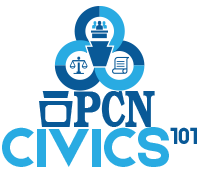 Civics 101 PDF: posters - Letter size, Legal size.
Civics 101 PDF: PA Governors
User's Guide - coming soon.
Civics 101 is a public service of the Pennsylvania Cable Network.
Share how you used Civics 101 and receive a certificate of recognition and thank you gift.


For additional resources of Civics education please see: The Rendell Center for Civics and Civic Engagement

PCN (Pennsylvania Cable Network) is a non-partisan, non-profit television network responsive to the needs and interests of Pennsylvania and its people. PCN Profiles unedited coverage of politics and policy, unique accounts of history and culture, and a variety of sports championships and events from the state of Pennsylvania. Watch PCN on cable and stream on demand using PCN Select.
Go to pcntv.com to learn more.