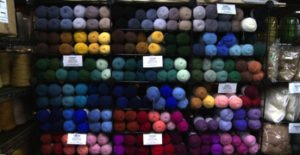 Red Stone Fiber Arts Center, York Haven, PA
Fans of the Sheep-to-Shawl Contest at the annual Pennsylvania Farm Show may wonder where the competitors can develop their chops.
Whether you're into the rigors of competition or just relaxation, those weaving and spinning skills seen on PCN every January are taught at the Red Stone Fiber Arts Center. When PCN Sheep-to-Shawl analyst Tom Knisely isn't overseeing the contest in Harrisburg, he and his daughter Sarah Bixler can be found here nurturing future champions, or just showing folks how to participate in a fun and satisfying activity in a cozy atmosphere. You can get your supplies here, too.
Watch the full episode and more with a PCN Select subscription!