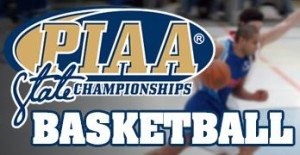 All games will be LIVE on PCN on cable and on PCN Select.
March 19 PIAA Basketball Championships

12:00 PM LIVE Girls A Basketball Championship
2:00 PM LIVE Boys AA Basketball Championship
6:00 PM LIVE Girls AAA Basketball Championship
8:00 PM LIVE Boys AAAA Basketball Championship
Click to watch LIVE coverage on PCN Select*
Saturday's games will replay Sunday, March 20 beginning at 9:00 AM on PCN Select.

---
Click to watch the REPLAY of Friday's PIAA Basketball Championships beginning at 9:00 AM on PCN Select:
Girls AA
Boys A
Girls AAAA
Boys AAA

*PCN Select is PCN's online streaming service.  To watch PCN Select, purchase a daily or annual viewing pass and use your login information to watch  online, or on the PCN Select mobile app.  PCN Select members have exclusive access to the live network, live event streams, and selected Video On Demand.
For the latest updates and information on the event, please visit www.piaa.org.
If you require assistance accessing PCN Select, please contact us at info@pcntv.com or by calling 717-730-6000.